Total Value: $500
Your Price: $399
Total Value: $500
Your Price: $399
---
We've noticed a lot of people are throwing away their plastic razors lately. We're not sure why... What we are sure of is our razor will be passed down to your sons, and your sons will pass them onto their sons.
Our razors feature gorgeous Arizona Desert Ironwood scales and as such, will be 100% unique from scale to scale.
Stainless Steel
Quarter Hollow Ground
5/8" Blade (In between 5/8 and 6/8)
Arizona Desert Ironwood Scales
Serrations on Top and Bottom of Spine
American Made
---
A man is only as sharp as the tool he uses...and when comes to sharpening your Straight Razor, there's nothing better for refining your blade than a quick once over with our Leather Shave Strop. After each use, be sure to strop your razor to achieve the most luxurious shave known to man!
Handmade by Savage Gentleman
Solid 1.75" D-Ring construction
Premium Vegetable Tanned Leather
---
Made from the hair of the toughest, meanest, most badass badgers we could find (you can't prove that we didn't). But unlike a badger, these brushes will leave a silky lather on you face for a smooth, classic shave.
For best use, wet with warm water and whip brush vigorously in our Camping Tin with Savage Gentleman Soap Puck until desired lather is achieved. Use brush to liberally apply lather to skin and enjoy the kind of shave even a Honey Badger would care about.
Product Specs:
Knot: 24mm
Loft: 50mm
Overall: 100mm
Handle height: 50mm
Narrowest handle diameter: 30mm
Widest handle diameter: 40mm
Brush weight: 2.5 oz
Handle: Resin
---
Invented in the 1700's, the enamel mug has been a staple piece of drink ware for prince and pauper alike. Our Savage Gentleman Camping Tin is the perfect vessel for a hot cup of coffee or a dram of whiskey by the fire. (It also works great for lathering up soap with your badger hair shave brush!) *coffee not included
---
Smelling like a true Savage is probably not what you're looking for. With that in mind, we wanted to develop a scent that would be reminiscent of spending some time in the wild, without the funk that comes with surviving for weeks in the backcountry.
Our "Savage" Oil combines notes of evergreen and the outdoors, without making you smell like a Christmas tree.
Packed with powerhouse skin and hair-nourishing oils, this beard oil blend incorporates:
Apple Seed Oil provides the skin with important vitamins and minerals such as sulfur, which is a crucial nutrient for collagen production, to promote strong hair and healthy elastic skin.

Avocado Oil is High in Vitamin E and Omega-3 fatty acids, this oil is easily absorbed into the skin to provide necessary moisture and antioxidants for healthy skin and hair growth.

Castor Oil has long been used to promote healthy hair-growth due to its ability to stimulate circulation and reduce inflammation—which can cause hardening of hair follicles and hair loss.

Essential Oil blend all of the essential oils incorporated into this beard oil blend were chosen not only for their amazing scent but also for their many aromatherapy and skin benefits. Balsam Fir is cleansing for the skin, Nutmeg and Black Pepper help to increase circulation, and Vetiver may help to reduce ingrown hairs.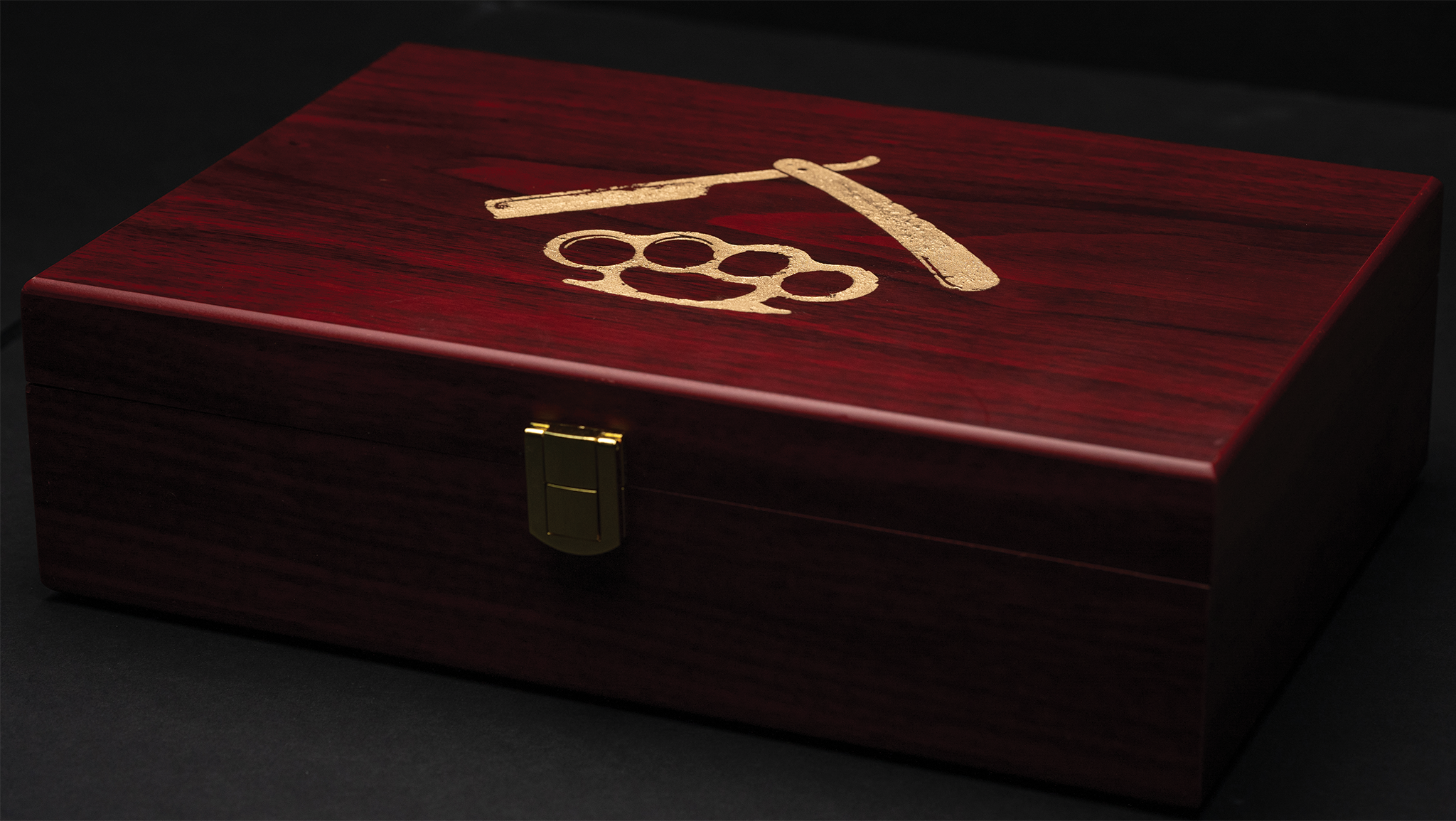 Savage Gentleman Wooden Box
---
The Savage Gentleman Handcrafted Case is designed to protect and preserve anything you consider "legendary".
When you open it, you'll be hit with rays of golden light and the music of angels from up above.
Ok, maybe not…
But, it will serve as your treasure chest to store your Savage Gentleman Straight Razor...or any prized memento that will be passed down to your legacy.
Keep it where you shave, place it on your desk, display it on your mantel…
Let is always serve to remind you that YOU ARE a Savage Gentleman. 
---
Two of our best selling products: our toxic masculinity t-shirt and cologne together at last!
Total Value: $500
Your Price: $399
Total Value: $500
Your Price: $399